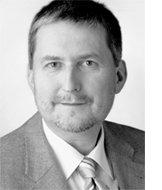 Dr. rer. nat. Dipl.-Phys. Bertram Koch
Patent Attorney · European Trademark and Design Attorney
(born 1957)

Dr. Koch studied physics and geography at the Technical University of Karlsruhe and received a PhD in the area of high temperature superconductivity. During his 10 years of managing industrial positions in technology development at AEG-Telefunken he was engaged in numerous German and European research projects. Subsequently he successfully completed the education for patent engineer und patent attorney at DaimlerChrysler AG. From 2002 he was responsible for creating and leading the patent department at ATMEL Germany GmbH and became head of department. In parallel he teamed several months with a US-Law office. Dr. Koch is a cofounder of the law firm Koch Müller Patentanwaltsgesellschaft mbH.
Main focus of activity
National, European and International patent right · utility model-, registered design- and trade mark-right · employee inventor right (esp. inventor bonus) · licence contract right · cooperation agreements with universities · preparation of industrial right portfolios and global application strategies · Member of GRUR und VPP · assistant professor for industrial property rights

Area of technical expertise
semiconductor optics and -physics · microsystems technology · integrated circuits · transponder · automotive electronics and high frequency engineering · sensor technology · measurement technology · materials technology · mechanical engineering · vacuum technology · cryo technology · process technology


<··· back